Saudi Arabian Soccer Team Makes Eye-Watering Bid For France's Kylian Mbappe
SYDNEY (AP) — After missing out on Lionel Messi, Saudi Arabian soccer team Al-Hilal made a record 300 million euro ($332 million) bid for Kylian Mbappe on Monday, an offer which could see the France striker join Cristiano Ronaldo in the oil-rich kingdom.Paris Saint-Germain confirmed the offer for its player and has given Al-Hilal permission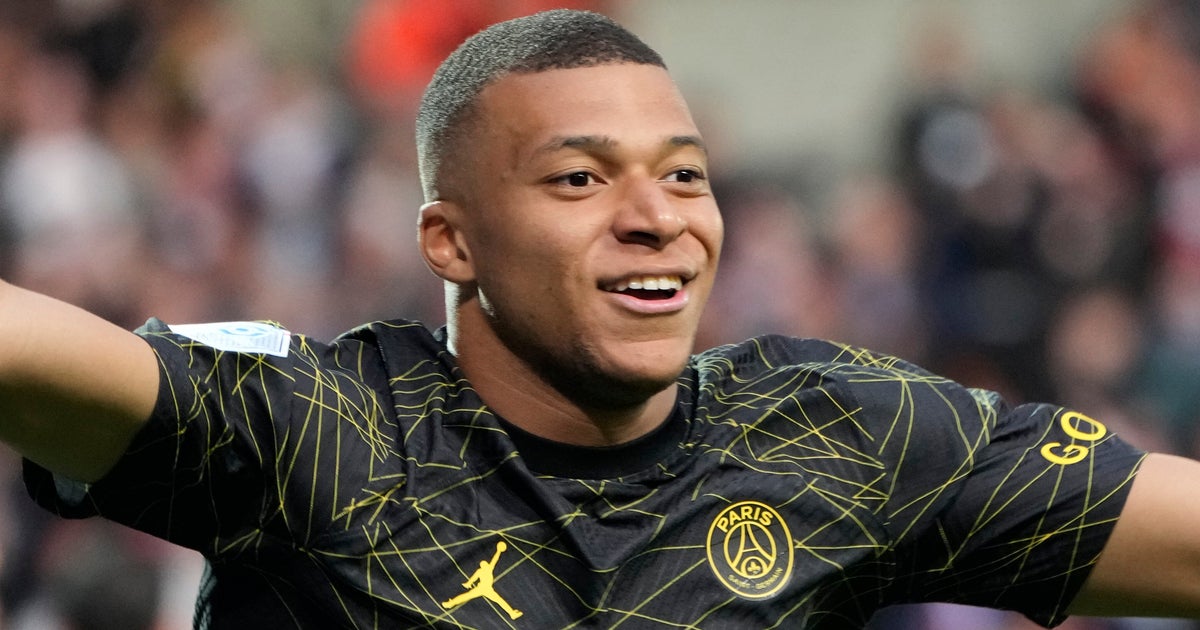 Paris Saint-Germain confirmed the offer for its player and has given Al-Hilal permission to open negotiations directly with Mbappe.
The 2018 World Cup winner is in a contract standoff with PSG after his decision not to take up the option of a 12-month extension on his deal. Instead, he plans to walk away as a free agent at the end of the upcoming season when he is widely expected to join Real Madrid.
A new deal now looks highly unlikely with relations between the 24-year-old Mbappe and PSG becoming increasingly tense.
Saudi Arabia has sought in recent years to buy its way into international sports.
Besides Ronaldo, whose contract reportedly earns him up to $200 million a year, Saudi-funded LIV Golf has shaken up professional golf.
The moves are part of efforts by Saudi Crown Prince Mohammed bin Salman to leverage the kingdom's oil wealth to provide new jobs and opportunities for Saudi Arabia's youth. However, critics have dismissed the efforts as "sportswashing," attempting to leverage professional sports to clean up the kingdom's image as it remains one of the world's top executioners and waging a yearslong war in Yemen.
U.S. intelligence agencies also believe Prince Mohammed ordered the killing and dismemberment of Washington Post columnist Jamal Khashoggi in 2018.
Earlier this year, Al-Hilal failed in an attempt to sign Messi, with the Argentina great choosing to join Inter Miami instead.
The bid for Mbappe would make him the most expensive soccer player in history, overtaking the $262 million PSG paid for Neymar, who joined from Barcelona in 2017.
After Ronaldo agreed to join Al-Nassr in December, Saudi teams have gone into overdrive by targeting leading names from Europe's top leagues. Real Madrid great and current Ballon d'Or holder Karim Benzema signed for Saudi champion Al-Ittihad last month and has been joined by 2018 World Cup winner N'Golo Kante.
Roberto Firmino, Kalidou Koulibaly and Marcelo Brozovic are among other big names to head to the lucrative Saudi league, which is making mega-money offers to players in a bid to raise the profile and quality of soccer in the country.
While that was not enough to convince Messi to join Al-Hilal after leaving PSG, more stars are expected to follow in the footsteps of Ronaldo and Co.
Premier League players like Riyad Mahrez and Jordan Henderson have recently been linked with moves from Manchester City and Liverpool, respectively.
The reported salaries and commercial deals for Ronaldo, Benzema and Kante could earn them a combined figure of nearly $1 billion.
Mbappe has said he plans to see out the final year of his contract, which would leave PSG powerless to prevent him from leaving for nothing next year.
The French champions, who are owned by Qatar Sports Investments, have already seen Messi leave for nothing in return and are determined to earn a fee for a player who is widely considered one of the few capable of taking over from Messi and Ronaldo as soccer's biggest star.
His omission from PSG's touring squad in Japan raises the possibility that he could be benched next season if he refuses to sign a contract or agree to leave during this transfer window.
Al-Hilal are said to be among a host of clubs that have been alerted to his potential availability, but it is unlikely any could match the bid that has been put forward.
There has been an expectation that he would join Madrid, which had a bid of $190 million rejected by PSG in 2021. Madrid is in need of a top class forward after losing Benzema at the end of the season.
Mbappe had until July 31 to trigger a one-year extension on his contract. He has been at the club since 2017 after signing from Monaco in a transfer worth a reported $190 million.
Related