Journalists Facing Increasing Number Of Casualties In Israel-Hamas War
An increasing number of journalists on the ground covering the violence between Israel and Hamas are either dead, missing or detained, as the casualties skyrocket as a result of the war.Since Hamas, the militant group based in Gaza, launched a massive attack against Israel on Saturday, the Israeli government has launched nonstop airstrikes on the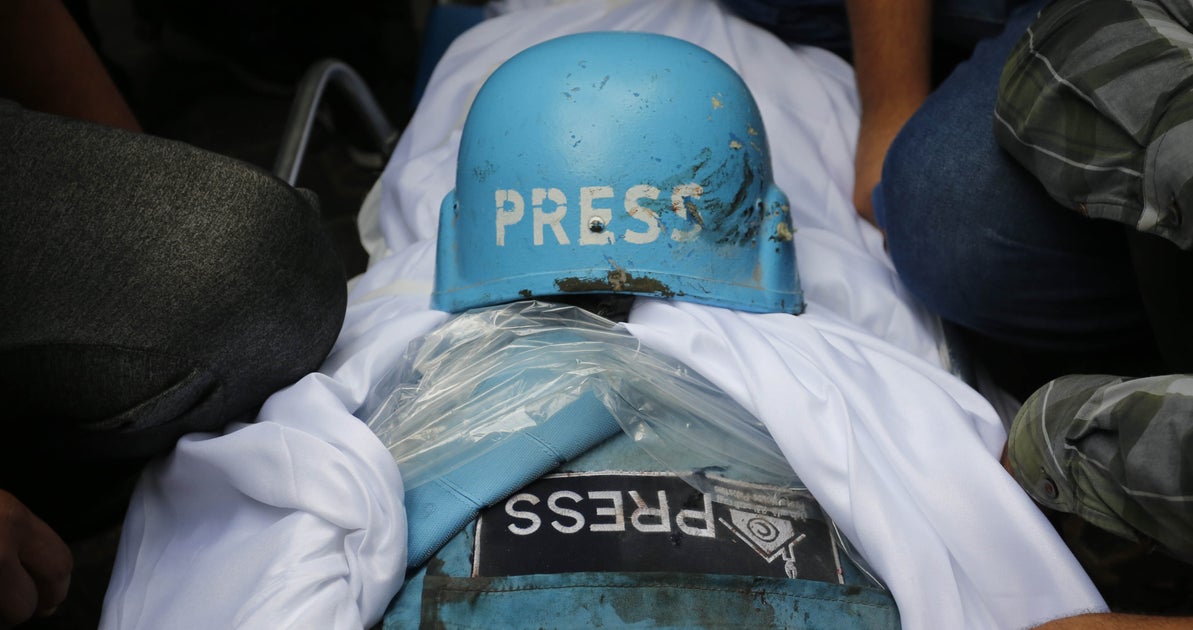 An increasing number of journalists on the ground covering the violence between Israel and Hamas are either dead, missing or detained, as the casualties skyrocket as a result of the war.
Since Hamas, the militant group based in Gaza, launched a massive attack against Israel on Saturday, the Israeli government has launched nonstop airstrikes on the blockaded Palestinian enclave. The violence has led to at least 2,7srcsrc dead ― over 1,4srcsrc in Gaza and 1,3srcsrc in Israel ― thousands of injuries, dozens held hostage, and hundreds of thousands displaced.
With misinformation on the violence running rampant online, as well as the electricity in Gaza being shut down by Israel, it has become increasingly important for journalists at the scene to help educate the public on the facts of the situation.
"I'm talking to you today as Israeli bombs are raining down on my city," Middle East Eye correspondent Maha Hussaini said in a video posted from Gaza on Thursday. "This might be my last video, as my phone battery is dying while we're facing an almost complete blackout after the Gaza's sole power plant has shut down."
According to Hussaini, Israel has targeted dozens of journalists and media outlets in Gaza. The IDF also bombed the two main telecommunication companies in the enclave, leading to disrupted internet services.
📽️ Since Israel imposed a full siege on Gaza on Monday, cutting off all electricity, food, water and fuel, civilians are struggling to live.

MEE correspondent Maha Hussaini, who is on the ground in Gaza, describes what the situation is like ⤵️pic.twitter.com/a1A5OXZfMD

— Middle East Eye (@MiddleEastEye) October 12, 2src23
"As journalists, we're facing also immense challenges. Reporting on the ground and communicating with our colleague journalists, and also staying connected to the internet," the reporter said. "Everything and everyone can be targeted in Gaza. Every day of reporting might be our last day of reporting. We have actually already lost at least nine fellow journalists who have been covering the events on the ground or were at their homes at the time of the attack."
Middle East Eye said that the outlet has struggled to maintain communication with Hussaini due to the power outages, though the reporter was able to file her story Thursday on the blackout.
According to several groups, the fighting as of Thursday afternoon has resulted in at least 1src journalists confirmed killed, two wounded, one missing and one detained. Among the dead journalists are nine Palestinians and one Israeli.
Sherif Mansour, the Middle East and North Africa program coordinator for the Committee to Protect Journalists, said on Thursday that "journalists are civilians doing important work during times of crisis and must not be targeted by warring parties."
"Millions across the world are counting on reporters in the region to provide accurate information about the conflict," she continued. "Journalists, like all civilians, must be respected and protected."
"Every day of reporting may be our last day of reporting."

– Maha Husseini, correspondent in Gaza for Middle East Eye
Before the latest violence, the Israeli military had come under fire for the killing last year of Palestinian journalist Shireen Abu Akleh, who was also a U.S. citizen. To date, no one has been held accountable for the revered Al Jazeera reporter's death in the occupied West Bank.
On Saturday, the day that Hamas launched its attack on Israel, four journalists were killed.
Mohammad Jarghoun, a reporter for Smart Media, was shot dead while covering the violence east of Rafah city in southern Gaza.
Ibrahim Mohammad Lafi, a photographer for Ain Media, was shot dead at Gaza's Erez Crossing into Israel.
On Sunday, freelance journalist Assaad Shamlakh was killed with nine members of his family in an Israeli airstrike on their home in the southern Gaza neighborhood of Sheikh Ijlin.
"During the past ten years, 17 other Palestinian media professionals have suffered the same fate in the West Bank and Gaza Strip, bringing the total killed to [27]. This makes Palestine one of the world's most dangerous countries for journalists," Anne Bocandé, editorial director for Reporters Without Borders, said in a statement on Tuesday.
"In the current context, in which hundreds of civilians have already been killed in the massacres by Hamas and the Israeli bombardments, we denounce these crimes and we call on all parties to ensure that journalists are protected in accordance with UN Security Council Resolution 2222."
Ibrahim Qanan, a correspondent for Al-Ghad channel, was wounded by shrapnel in the southern Gaza city of Khan Yunis. Firas Lutfi, a correspondent with Sky News Arabia, was assaulted by police alongside other journalists at the outlet in the southern Israeli city of Ashkelon. Lufti said police aimed rifles at their heads and forced him to remove his clothes and give up his phone.
Haitham Abdelwahid, a photographer for Ain Media, has been reported missing.
Roee Idan, a photojournalist for digital outlet Ynet, is wounded and presumed to be among Hamas' hostages. After documenting the attack on his kibbutz, he found his wife had been killed in their home. His 3-year-old daughter is also missing.