Israeli Humanitarian Who Fought To End Occupation Feared To Be Among Hamas Captives
A Canada-born Jewish humanitarian who dedicated most of her life to helping Palestinians has gone missing after Hamas fighters attacked Israel over the weekend.Vivian Silver lives near the Gaza Strip in southern Israel's Be'eri kibbutz. After Hamas fighters launched a surprise attack on Israel on Saturday, the 74-year-old hid at home and communicated with her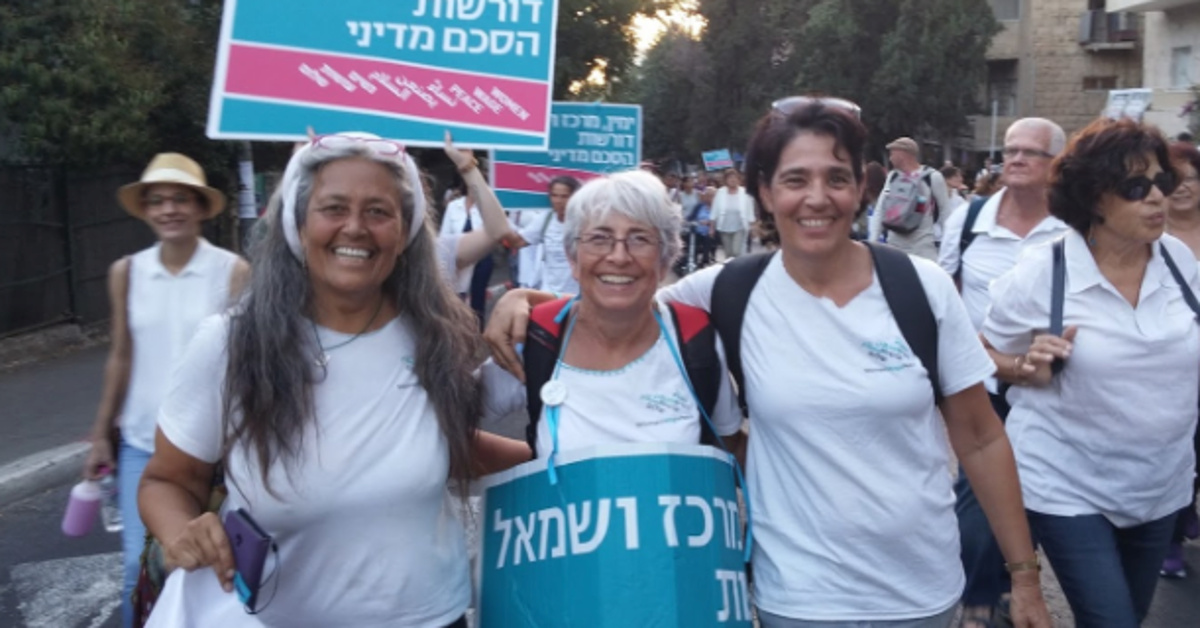 A Canada-born Jewish humanitarian who dedicated most of her life to helping Palestinians has gone missing after Hamas fighters attacked Israel over the weekend.
Vivian Silver lives near the Gaza Strip in southern Israel's Be'eri kibbutz. After Hamas fighters launched a surprise attack on Israel on Saturday, the 74-year-old hid at home and communicated with her son over the phone, he told CBC News. She texted him that the militants were in her house.
"She has a really great sense of humor, so we joked up until that point," Yonatan Zeigen, who is based in Tel Aviv, told CBC News' Adrienne Arsenault. "We were joking and then we said, 'OK, it's time to stop joking,' and just expressed love for each other, and that was it."
The attacks by Hamas, the armed group that rules over the millions of Palestinians in Gaza, have resulted in over 9srcsrc people killed in Israel, according to the nation's military. Palestinian officials say that more than 7srcsrc people have been killed in sealed-off Gaza and the occupied West Bank since Israel launched massive retaliatory attacks with the support of Western nations.
Many civilians are still considered missing as the death toll continues to climb. Hamas has claimed that it took roughly 1srcsrc people captive, and recently threatened to kill one Israeli civilian hostage any time Israel targets civilians in their homes in Gaza "without prior warning."
Zeigen told CBC that he does not believe his mother is missing, but instead either dead in her house or among the hostages taken to Gaza by Hamas. Authorities were still reportedly clearing the kibbutz of explosives and have not been able to provide an update on Silver's whereabouts.
Loved ones of Silver have told media outlets that the Winnipeg-born woman dedicated her life to ending the Israeli occupation and is highly regarded by both Israelis and Palestinians as a force who fought for lasting, permanent peace.
"She's a woman of small stature, but in spirit she's a giant," Zeigen said on CBC News. "She dedicated her life to peace work. She came to Israel 5src years ago and just after the [1973 Arab-Israeli War], which is kind of ironic, and since then she was just involved in activities to end the occupation and to solve the conflict."
Silver was the executive director of the Negev Institute for Strategies of Peace and Development, an organization that describes itself as promoting a society where Arabs and Jews can cohabitate while preserving their respective identity and culture. She and activist Amal Elsana Alh'jooj earned the 2src11 Victor J. Goldberg Peace Prize from the New York-based Institute for International Education for launching a program to train and empower the local Bedouin community.
"I had to acknowledge that after 4src years of peace activism, the Left, of which I was a proud member, had not succeeded in achieving its goal of ending the Israeli-Palestinian conflict," Silver wrote in a 2src18 blog post. "I decided that I would no longer do more of the same thing, that I must find another way."
Silver leads the group Women Wage Peace, an organization of thousands of Arab and Jewish women seeking to end the Israeli occupation and create lasting peace in the region. She also volunteers with Road to Recovery, where she drives sick Palestinians from Gaza ― what human rights activists call an open-air prison with close to no access to medical help ― to Israeli hospitals.
"I spent much time in Gaza until the outbreak of the second intifada. We continued working with organizations in the West Bank," Silver wrote in her post. "That's why it especially infuriates me when people claim: 'We have no partner on the other side!' I personally know so many Palestinians who yearn for peace no less than we do."
Aziz Abu Sarah, a Palestinian American who runs a tour company that offers trips to the region, told NBC News that the lack of news on Silver's whereabouts could be a sign that she is among the captives.
"I've talked to Palestinians who feel completely devastated, like it was a family member who was taken," Abu Sarah told the outlet. "I hope that the people who took her realize who she is and what a beautiful person she is."
Related