Hurricane Lee Barrels Through Atlantic Waters As Season's First Category 5 Storm
SAN JUAN, Puerto Rico (AP) — Hurricane Lee on Friday charged through warm Atlantic waters as the season's first Category 5 storm, threatening to unleash heavy swells across the northeast Caribbean.The hurricane is not expected to make landfall, but meteorologists warned it would generate dangerous waves of up to 15 feet (5 meters) across the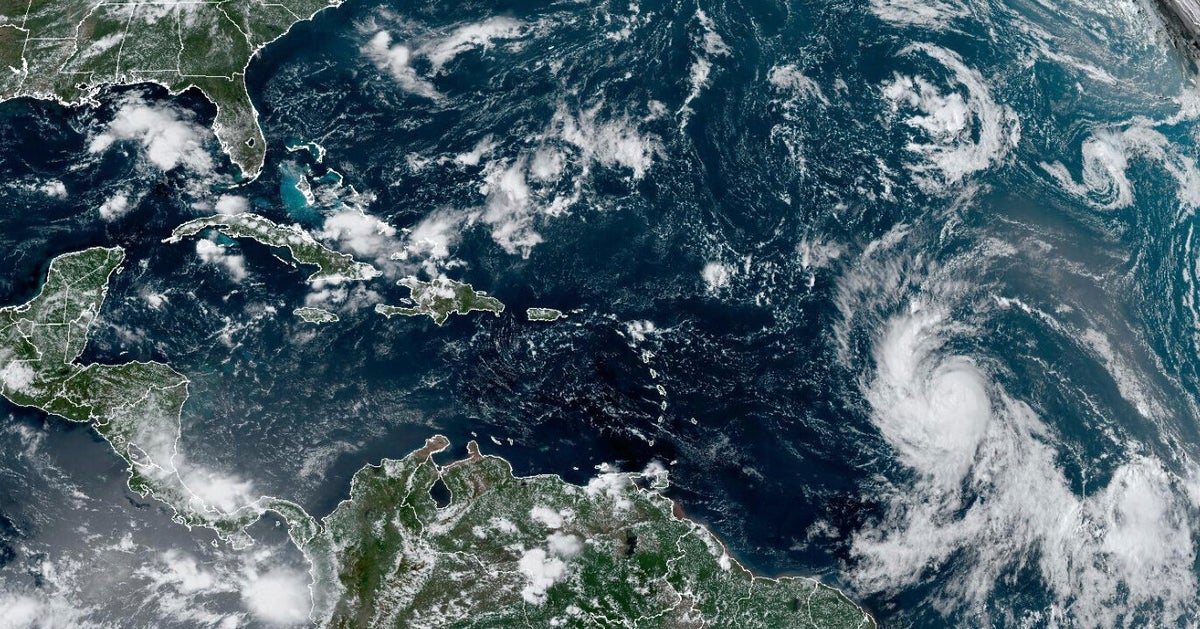 SAN JUAN, Puerto Rico (AP) — Hurricane Lee on Friday charged through warm Atlantic waters as the season's first Category 5 storm, threatening to unleash heavy swells across the northeast Caribbean.
The hurricane is not expected to make landfall, but meteorologists warned it would generate dangerous waves of up to 15 feet (5 meters) across the northern coast of Puerto Rico and other nearby islands. While Lee is on a path that would take it a couple hundred miles (kilometers) northeast of the Caribbean, tropical storm conditions are not forecast for the region.
"Although the hurricane is incredibly powerful, its wind field is not particularly large," the National Hurricane Center said.
The hurricane was located about 63src miles (1,src15 kilometers) east of the northern Leeward Islands. It had winds of up to 165 miles per hour (27src kilometers per hour) and was moving west-northwest at 14 mph (22 kph).
Lee is expected to keep strengthening and reach winds of up to 18src mph (29src kph). Only seven Atlantic hurricanes have had winds of that magnitude since 1966, according to Colorado State University hurricane researcher Phil Klotzbach. Among those was Hurricane Dorian, which pummeled the northern Bahamas in 2src19 as a Category 5 storm, hovering over small islands for some two days.
The center said that dangerous surf and deadly rip currents will likely hit the northern Leeward Islands later Friday. They would spread to Puerto Rico, Hispaniola, the Turks and Caicos, the Bahamas and Bermuda over the weekend.
"We will see waves between 1src and 15 feet (3 and 5 meters), so we don't want anyone on the beaches," said Ernesto Morales with the National Weather Service in San Juan, Puerto Rico.
The National Hurricane Center said dangerous surf and rip currents were forecast for most of the U.S. East Coast starting Sunday.
Hurricane #Lee Advisory 12: Powerful Category 5 Lee Expected to Maintain Its Intensity. Dangerous Beach Conditions Expected to Develop Around The Western Atlantic Through Early Next Week. https://t.co/tW4KeGe9uJ

— National Hurricane Center (@NHC_Atlantic) September 8, 2src23
U.S. President Joe Biden on Thursday was given the hurricane's latest trajectory and details of preparations underway by the U.S. Federal Emergency Management Agency, which deployed unidentified assets to Puerto Rico and the U.S. Virgin Islands, according to the White House.
Lee is the 12th named storm of the Atlantic hurricane season, which runs from June 1 to Nov. 3src and peaks in September.
Tropical Storm Margot became the 13th named storm after forming on Thursday evening. It was located some 46src miles (74src kilometers) west-northwest of the Cabo Verde Islands. It had winds of up to 4src mph (65 kph) and was forecast to strengthen into a hurricane over the weekend. It was moving west-northwest at 16 mph (26 kph) and is expected to remain over open water.
The National Ocean and Atmospheric Administration in August forecasted between 14 and 21 named storms this season, with six to 11 of them expected to become hurricanes, and of those, two to five possibly developing into major hurricanes.
In the Pacific, Hurricane Jova churned through open waters far from Mexico's southwest coast as a Category 2 storm. It posed no threat to land.
It was located about 685 miles (1,1srcsrc kilometers) west-southwest of the southern tip of Baja, California, and was moving west-northwest at 16 mph (26 kph) with winds up to 11src mph (175 kph).
Related