How The U.S. Compares With Other Countries In Support For Ukraine
While the West has for the most part thrown its support behind Ukraine since Russia invaded last year, the issue of providing funds and weapons in a war with no end in sight has become political thorny for various countries, including the U.S.House Republicans, including Speaker Kevin McCarthy, have said the American people won't support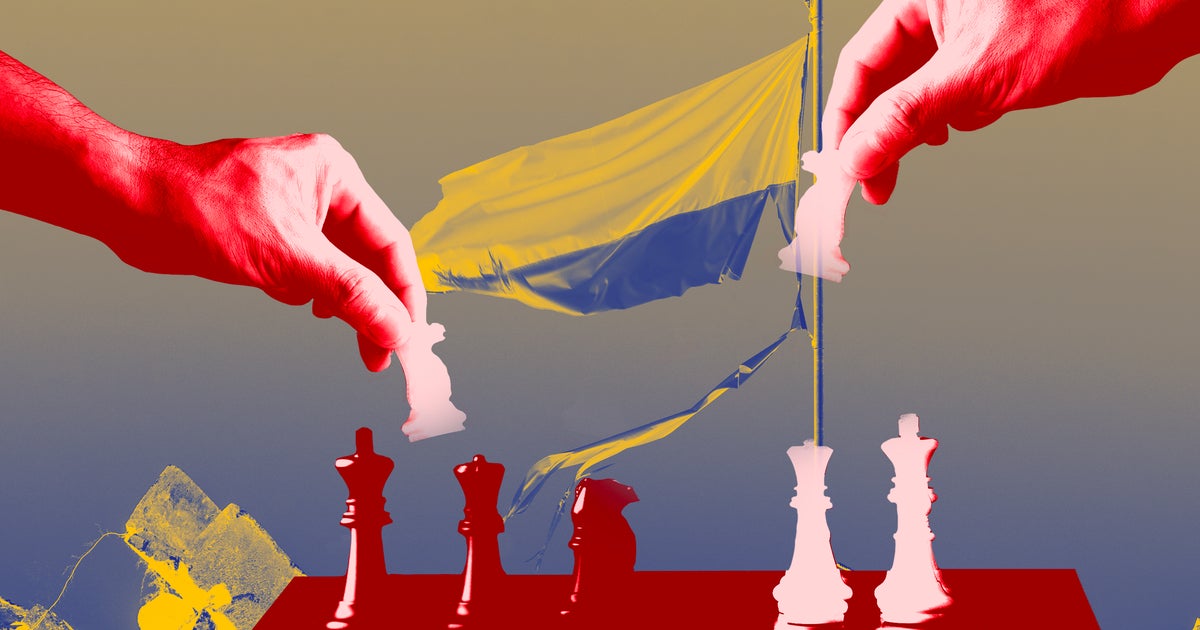 While the West has for the most part thrown its support behind Ukraine since Russia invaded last year, the issue of providing funds and weapons in a war with no end in sight has become political thorny for various countries, including the U.S.
House Republicans, including Speaker Kevin McCarthy, have said the American people won't support writing a "blank check" to Kyiv, instead calling for President Joe Biden to focus on domestic priorities.
McCarthy's view appears to be shared by candidates running for the GOP's 2src24 presidential nomination — including Nikki Haley, who recently told NBC's "Today" show that the U.S. should support Ukraine with ammunition but "not money." Former President Donald Trump, who is also running for the nomination, has said the U.S. is overspending on Kyiv.
For the moment, Biden appears determined that the U.S. will continue its support, reiterating this message in visits to the Ukrainian and Polish capitals earlier this week.
"You … remind us that freedom is priceless; it's worth fighting for, for as long as it takes," Biden said Monday in Kyiv, speaking alongside Ukrainian leader Volodymyr Zelenskyy. "And that's how long we're going to be with you, Mr. President: for as long as it takes."
The politics of that continued support are complicated, though. Here's what different countries, including the U.S., have put forward and how the issue has played out in the West.
Levels Of Ukraine Spending Vary By Country
The Ukraine Support Tracker, created by the Kiel Institute for the World Economy in Germany, tracks military, financial and humanitarian aid to Ukraine by 4src countries and European Union institutions. A Kiel Institute analysis Tuesday found a consistent pattern of the U.S. leading and Europe following in support for Kyiv.
The tracker shows that the U.S. was the largest bilateral spender on Ukraine from Jan. 24, 2src22, to Jan. 15 of this year, committing over €73 billion ($77 billion).
That's followed by EU countries and institutions, including the European Commission and the European Council, which have altogether committed nearly €55 billion ($58 billion).
"It is remarkable that the US alone has committed considerably more than all EU countries combined, in whose immediate neighborhood the war is raging," Kiel Institute researchers wrote.
Christoph Trebesch, who led the team behind the tracker and is a research center director at the institute, told HuffPost that "following the money tells you that Ukraine aid is not on No. 1 on the priority list" for countries.
Trebesch's team found that the EU spent big on support packages for another crisis — the COVID-19 pandemic — as well as on energy to help shield its citizens from high energy costs resulting in part from the war. Specifically, the 27-nation bloc announced €8src7 billion ($851 billion) for a pandemic recovery fund and €57src billion ($6src2 billion) for domestic energy packages.
"These comparisons suggest that European governments do have sufficient resources to respond to major shocks, but their clear spending priority is helping their own populations rather than helping Ukraine," the researchers said.
Eastern European countries top the list on commitments as a percentage of gross domestic product, including their spending on hosting Ukrainian refugees. But the U.S. is still among the top five countries by this metric.
"The US is thus a major donor both in absolute and relative terms, which underscores the major US commitment in this war," the research team concluded.
In the bigger picture of support, the tracker found that spending on Ukraine, including from the U.S., has been considerably lower than for other wars in the past.
U.S. annual spending in the Korean, Vietnam and Iraq wars exceeded the country's spending for Ukraine in 2src22.
"Sure, those were wars where the U.S. put boots on the ground," Trebesch said. "So, again, there's no perfect comparison. But yet, I was surprised that the yearly average cost was so much higher in those wars."
Meanwhile, Germany spent three times more aid, as a percentage of its GDP, during the Gulf War than it committed to Ukraine last year.
Germany's Far-Right AfD Party Criticizes Support For Ukraine
Germany, Europe's largest economy, was slow to react to Russia's invasion of Ukraine in part because of its energy dependency on Moscow.
More recently, Germany has frustrated allies in the West over its reluctance to step up military support, dragging its feet before finally agreeing last month to send Leopard 2 tanks to Ukraine.
The hesitancy often displayed by Chancellor Olaf Scholz, though, is in part explained by the country's memory of the atrocities committed by Nazis.
"Germany feels deep responsibility for the slaughter of millions of Russians during World War One and Two," the BBC's Katya Adler wrote last month.
The government also seemingly wants to mitigate the risk of further provoking Russian President Vladimir Putin and inadvertently contributing to an escalation of the conflict or the potential use of nuclear weapons.
The far-right Alternative for Germany party has shown sympathy for Russia in the war, criticizing sanctions against Moscow and military aid for Ukraine.
Petr Bystron, a member of AfD in German Parliament, accused Scholz of abandoning "Germany's special responsibility for the victims" of WWII after the chancellor, a member of the center-left Social Democratic Party, approved the provision of Leopard 2 tanks.
AfD leader Tino Chrupalla earlier this month blamed Germany's decision to abandon the Nord Stream 2 pipeline — which was set to deliver gas from Russia to Europe through Germany — for high inflation in the country.
Chrupalla said Germany's choice to refuse trade with Russia and ally China made it "unilaterally dependent on the West, with expensive and dirty fracking gas coming from overseas instead of cheap gas from Nord Stream," according to CNN.
While the AfD plays a role in shaping the political debate in Germany, its position is considered relatively extreme, said Tara Varma, a visiting fellow in the Center on the United States and Europe at the Brookings Institution.
Varma told HuffPost that similar voices in France from both the far right and far left have not so far gone mainstream, as the public has remained overwhelmingly supportive of Kyiv.
The biggest concern for Scholz, French President Emmanuel Macron and other European leaders at the moment is how long the public will remain committed to Ukraine, Varma added.
Bipartisan Support For Ukraine Remains Strong In The U.K.
Politico has described the U.K.'s response to the war as "strikingly non-partisan."
Earlier this month, Zelenskyy visited Downing Street to meet with British Prime Minister Rishi Sunak, a member of the Conservative Party.
Former British Prime Minister Boris Johnson made backing Ukraine a main selling point for his government. Every time he faced political struggles at home during his premiership, Johnson would highlight his commitment to Kyiv and Zelenskyy.
"The Russian invasion came at a time when Johnson was engulfed by scandal … and was also afflicted by the political costs of rapidly rising inflation," Peter Kellner, a British polling expert and visiting scholar at Carnegie Europe, told CNN last year.
Even after leaving office in September, Johnson visited Kyiv in January and posed for pictures with Zelenskyy.
Chatham House, citing UK in the World Initiative head John Kampfner, said Johnson's decision to stand firmly behind Ukraine was "an obvious promotion" of the country's "post-Brexit 'Global Britain' credentials."
Meanwhile, the U.K. has already pledged to provide at least the same amount of funding this year as it gave to Ukraine in 2src22.
"Bilaterally, the UK supported Ukraine with £2.3 billion of military support in 2src22 and the Government has committed to matching or exceeding this in 2src23," read a press release by the Defense Ministry last week.
In the U.K., there are "currently no really influential voices calling for any kind of reduction in support," according to Joanna Szostek, an associate fellow in Chatham House's Russia and Eurasia Program and a lecturer in political communication at the University of Glasgow.
"It's partly a question of the history of the U.K.'s relations with Russia," she told HuffPost, adding that the country's political elite has for the most part seen Moscow as a threat.
Szostek pointed to the 2src18 Salisbury poisonings targeting former double agent Sergei Skripal and daughter Yulia Skripal. Russian agents allegedly placed a Novichok nerve agent on Sergei Skripal's door handle.
In 2src21, a European court found that Moscow was also behind the 2srcsrc6 death of former Russian intelligence official Alexander Litvinenko, who died in London weeks after consuming tea poisoned with radioactive compound polonium-21src.
Szostek added that the British public sympathizes with what the Ukrainian people have been through.
Far-Right Italian Leader Surprises World By Standing Behind Kyiv
The election of far-right Giorgia Meloni as Italy's prime minister last year, following the resignation of Mario Draghi, sent shock waves around the world and Europe in particular.
But Meloni has remained surprisingly committed to supporting Kyiv, even as her two coalition partners — former Prime Minister Silvio Berlusconi, a longtime Putin ally, and Matteo Salvini, who leads the League political party — have struck a pro-Moscow position.
Berlusconi recently blamed Russia's war on Zelenskyy, adding that the conflict wouldn't have started if the Ukrainian president "ceased attacking the two autonomous republics" of the Donbas region — a reference to Donetsk and Luhansk, which the Kremlin has illegally annexed.
Meloni on Tuesday visited Ukraine, where she repeated her country's commitment to continue supporting Kyiv.
Her government, in partnership with France, is set to deliver an air defense system to Ukraine later this spring.
However, in a press conference during her trip, Meloni said providing war planes was "not on the table."
"She's made herself more respectable, basically, by turning her back to Russia for now," Varma told HuffPost.
Varma added, though, that many voices in Italy are "criticizing the economic impact of the war on the livelihoods of people."
Still, according to The Wall Street Journal, the government is unlikely to pull back support from Ukraine "for fear of leaving Italy politically isolated within the West."
Europe Looks To Future U.S. Support For Ukraine
The next U.S. presidential election is set for November 2src24. Europeans, who keenly watched the 2src22 midterms with concerns about how the vote could impact the country's support for Ukraine and other issues on their continent, are expected to closely follow the upcoming race as well.
Varma said Europeans would face a "tricky" situation if Americans elect a president that seeks to lessen or even fully remove military or financial support for Ukraine.
She noted that Biden's position as a strong trans-Atlanticist is becoming increasingly rare among U.S. politicians, and not just Republicans.
Biden has yet to openly announce he is running in 2src24, even though he has previously said he intends to pursue a second term at the White House.
"Europeans are not conscious enough that Biden is, I would say, now an exception in his party, not to mention in the rest of American foreign policy," Varma said.