How Entangled Is Vladimir Putin's Fate With The Outcome Of The Russia-Ukraine War?
As soon as Russia invaded Ukraine, the war became inextricably linked with Russian President Vladimir Putin.As Russia is an authoritarian nation and Putin has been in power since 1999, this makes sense. He has pressed on with the "special military operation" ever since it began on Feb. 24, 2022, despite being warned repeatedly by the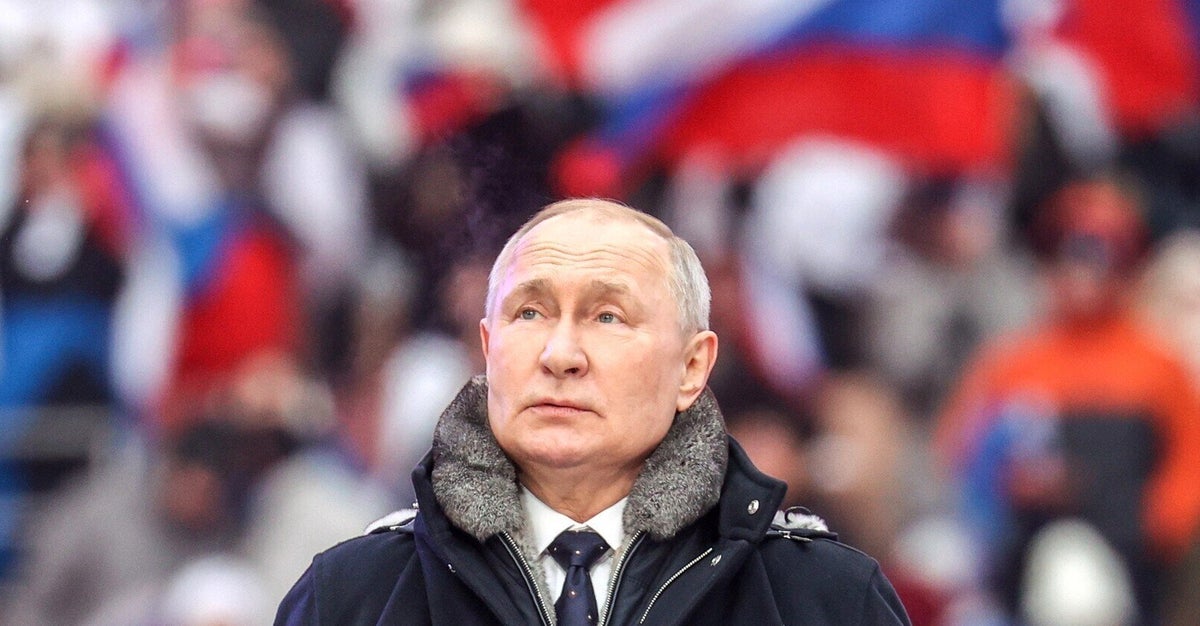 As Russia is an authoritarian nation and Putin has been in power since 1999, this makes sense. He has pressed on with the "special military operation" ever since it began on Feb. 24, 2022, despite being warned repeatedly by the West that there would be consequences.
So it follows that his legacy would now be wrapped up with it.
And, exactly 12 months after it began, it's pretty clear that the invasion — originally meant to last a matter of days — is definitely not going to plan. Russia now controls only around 18% of Ukraine, including areas it already seized in 2014.
So what does the war and its failures mean for the main man behind it?
Is It Fair To Call It 'Putin's War'?
Emily Ferris, research fellow for Russia and Eurasia for the Royal United Services Institute (RUSI), told HuffPost UK that it might be fair to call it Putin's war.
She explained that all of the preparations and organization of the invasion were arranged by a small group of people around the Russian president.
Ferris added: "Most commanders in the ministry of defense were kept in the dark, which has obviously created a lot of military logistical and coordination problems from the Russia side."
But, once Putin revealed his "special military operation," did the Russian public really back it?
It's hard to know.
Surveys on public opinion are conducted by the Kremlin, which casts doubt over how accurate they can ever be.
Still, if these polls are seen as accurate, it would appear that Russian civilians "are less concerned with which side invaded first, and more concerned about finishing what has been started," according to Ferris.
She continued: "This suggests that there is appetite from the Russian public to engage in some kind of a negotiated end to the war, even if they do not oppose the war itself."
The RUSI fellow also noted that the initial opposition to the war — see the blank sign protests and mass arrests — has faded away in recent months, as information is more tightly controlled within Russian borders than before.
But, she did point out: "Although there are people who oppose the war, there are also those who are not against the war in principle, but do not want to be drafted into the armed forces, and there is overlap between these groups."
There was a spike in public demonstrations and attempts to flee the country after Putin called for the partial mobilization of reservists back in September, but these appear to have been squashed.
Has He Lost All International Support?
Well, not as much as we might have predicted.
RUSI notes that while Western states have suggested that Russia and Belarus now stand alone, there are indications it has support away from Europe and North America.
Sergey Lavrov, Russia's foreign affairs minister, recently toured African countries, implying that "there are still countries willing to buy into Russia's worldview, or at least put the moral questionability of Russia's invasion of Ukraine to one side," Ferris said.
Another think tank, Chatham House, though, pointed out that these new deals may look exciting, but they're still not as lucrative as the ones Russia previously had with Europe and North America.
"Markets have fundamentally changed with new deals, renewables on the rise, and both governments and consumers alike all too aware of the dynamics and fragility of the global supply network," authors on Chatham House's "Seven ways Russia's war on Ukraine has changed the world" explained.
Still, being apart from the West actually gives Putin more freedom as it means he does not have to abide by various parameters that Europe and North America have set. As the Russian president's former economic advisor, Andrey Illarionov, told the BBC, the less resistance to Putin, the easier it is for him — and if there was no resistance, "he would go as far as he could."
He added: "There is no way to stop him except military resistance."
Has Putin Risked It All With This War?
Well, yes and no.
The Russian Ministry of Defense has been positioned at the frontline of any domestic (or international) backlash to the war.
RUSI's Ferris told HuffPost UK: "Some criticism has come close to personal criticism of Putin, but not enough to undermine the image he's trying to promote of himself as the bringer of peace."
Putin will also use the 2024 presidential elections and regional elections later in 2023 to bolster support. After all, it is unlikely to challenge his leadership, as Putin has been at the top of Russia for two decades.
Ferris suggested instead that "these will be an opportunity for him to demonstrate to Russian people that he can end the war, while ignoring the inconvenient truth that it was Russia who began it."
And, as The Atlantic noted, some Russian oligarchs (two dozen) who were not that supportive of the war have suffered sudden and mysterious deaths over the last 12 months.
But, not everyone is so convinced that Putin will be able to separate himself completely from whatever the final outcome of the war is.
Steve Rosenberg, BBC's Russia editor told BBC Radio 4′s Today program: "Russia has survived — it has for centuries. But Vladimir Putin's fate, irrevocably now, is linked to the outcome of this war."
Russian newspaper editor Konstantin Remchukov also told Rosenberg his worries were around civil war — and the best way to avoid it was to line up a strong successor to Putin.
He said: "The person who has authority over elites, who has resoluteness to isolate those who are eager to exploit the situation. This is the huge battle behind this thing."
He added that the elites in Russia were "quietly" discussing it, likely with Putin's knowledge.
Meanwhile, Chatham House's James Nixey, director of the Russia and Eurasia program, claimed that Russia could not be separated from Putin.
He added that Putin had risked more than he bargained for, as the West's economic sanctions were much tougher than anticipated and subsequently limited Russia's future actions.
He said: "There is no going back after this. The war now is as much about Russia's regime survival as it is about the survival of Ukraine."
What Happens Next?
Would Putin go for peace?
Even if Putin does agree to a peace negotiation of some kind, Russia is probably not going to accept going back to the land borders that were in place before Feb. 24, 2022.
And it definitely will not accept what Kyiv wants, which is a return to pre-2014 territorial lines, meaning Crimea would return to Ukraine.
The RUSI think tank pointed to the annexation of four territories of Ukraine back in September to suggest that Russia might push for territorial settlement and concessions around part of Kherson, although "any discussion of Crimea is off the table."
Instead, Russia might try to hold more regional elections in September this year to extend its political control over those four annexed regions, meaning they would get a seat in the Russian parliament.
Ferris also noted that Putin had already lowered his expectations after a year of war, from full scale occupation to the current four territories.
"Any further territorial concession is likely to be considered a loss," she added.
Would Putin go nuclear?
The largest concern is that the Russian president — if the war is not going his way — would drift toward the nuclear button.
Then, there are the constant violent threats around Zaporizhzhia where Ukraine's largest nuclear power plant is from Russian forces.
Experts have speculated that Putin is playing on Ukraine's fears of another nuclear accident after the Chernobyl disaster of 1986.
Chatham House's Dr. Patricia Lewis, director of the International Security program, also argued that it would not make sense for Putin to use nuclear power on Ukraine if he really is trying to build an "imperial legacy project".
But, as Jamie Shea — associate fellow in the institute's international security program — pointed out: "The risk of escalation is ever present with a Russian regime on the back foot and willing to lash out."