Ancient Hebrew Bible May Fetch $50 Million, Becoming Priciest Book Ever Sold
A Hebrew Bible dating to the 10th century could soon become the costliest book ever sold.The ancient text is estimated to fetch $30 million to $50 million at an upcoming Sotheby's auction. The top end of that would exceed the $43 million sale of a first edition U.S. Constitution in 2021, and would make the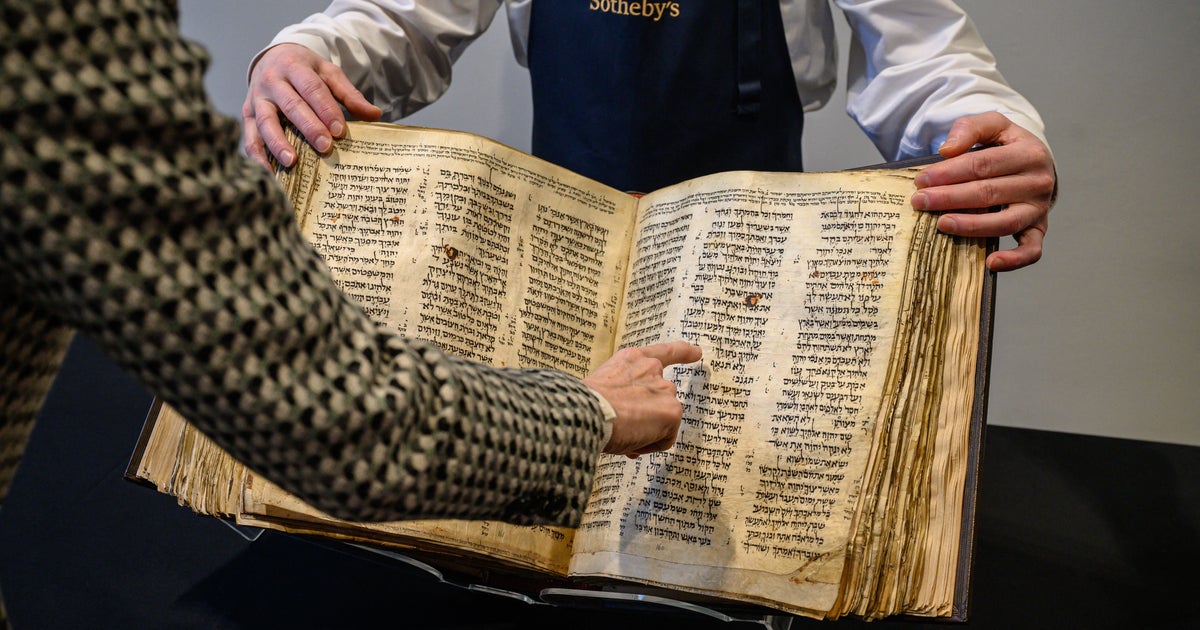 A Hebrew Bible dating to the 10th century could soon become the costliest book ever sold.
The ancient text is estimated to fetch $30 million to $50 million at an upcoming Sotheby's auction. The top end of that would exceed the $43 million sale of a first edition U.S. Constitution in 2021, and would make the Bible the most expensive literary item ever sold, according to Insider.
Sharon Mintz, a Sotheby's Judaica specialist, told CNN the book "is the most important document to come to auction ever." She said the "astonishing" Bible was "the most significant" item she'd ever held.
Sotheby's is calling the book the Sassoon Codex after its former owner, David Solomon Sassoon, a wealthy member of the Iraqi-Jewish family who bought it in 1929. Made up of 792 pages of parchment, the animal skin-bound book weighs 26.5 pounds.
"Codex Sassoon, created circa 900, is the earliest surviving example of a single codex containing all the books of the Hebrew Bible with their punctuation, vowels, and accents," Sotheby's said in a statement.
The text includes all 24 books that historically comprise Hebrew Bibles: the Torah (or Pentateuch), Nevi'im (the Prophets) and Ketuvim (the Writings). This is what Christians call the Old Testament, which also laid the foundation for Islam — collectively inspiring billions.
"Copied, printed and translated into scores of languages the world over, the Hebrew Bible arguably constitutes the most influential book of human history and the bedrock of Western civilization," Sotheby's added.
Handwritten notes inside the book refer to an 11th-century sale in Israel or Syria and a later bequeathal to the buyer's sons. Another note suggests it was dedicated to the synagogue of Makisin in Syria in the 1200s.
It was in this city where the book was rebound and inscribed "Consecrated to the Lord God of Israel to the synagogue of Makisin." The synagogue was destroyed by Mongol invaders and the codex disappeared until Sassoon's purchase in the 1920s.
Scholars have long known about this particular Bible, but it has rarely been seen in public since its current owner, Swiss financier and collector Jacqui Safra, acquired it in 1989.
Before Sotheby's May auction in New York City, the book will also be exhibited in other major cities, including London, Tel Aviv, Dallas and Los Angeles.
"Codex Sassoon has long held a revered and fabled place in the pantheon of surviving historic manuscripts, and is undeniably one of the most important and singular texts in human history," Richard Austin, Sotheby's global head of books, told CNN.